Supporting the development of economics
Being the interface between businesses and researchers.
Working together with businesses in the market for needs of the elderly.
Mobilising the network of partners to build the silver economy.

Animation of the VIVALab system in Bourgogne Franche-Comté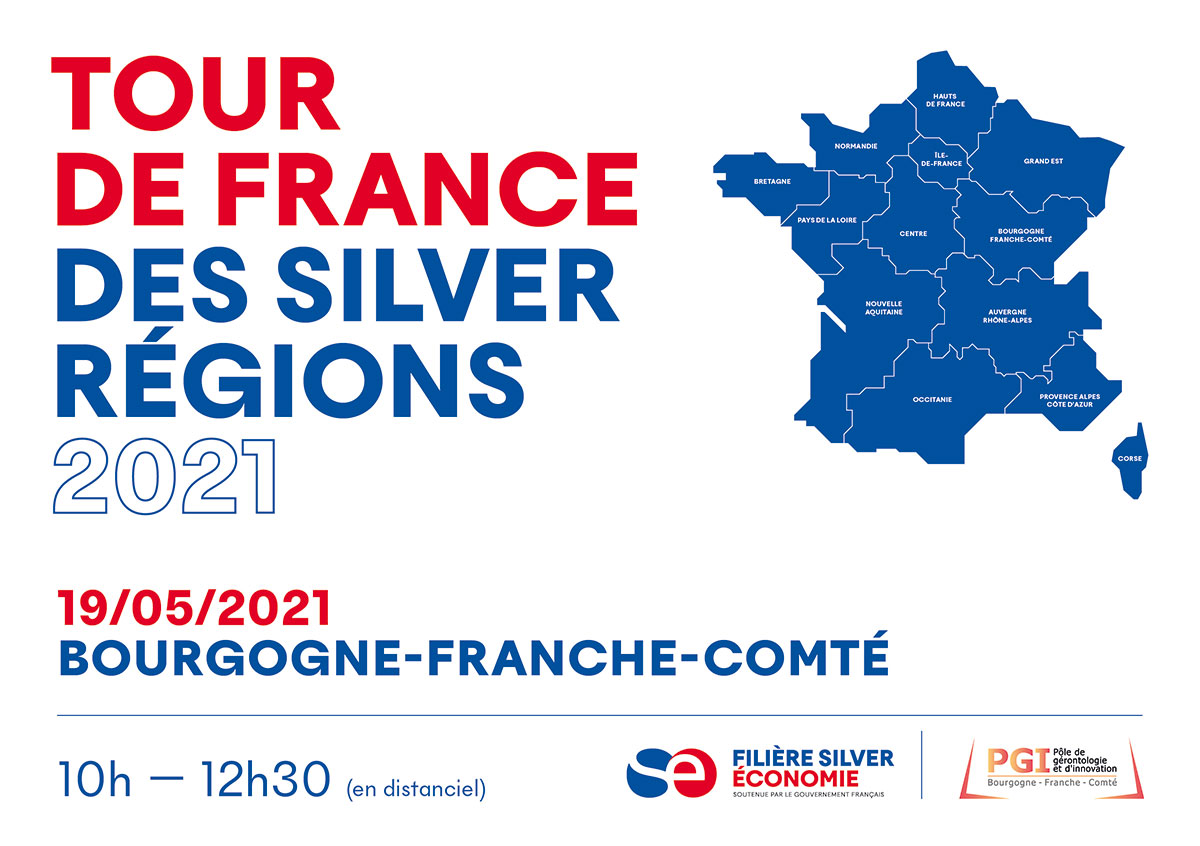 BFC stopover of the Tour de France of the silver regions
Our silver economy actions
Businesses and researchers interface
Scientific evaluation of silver economy solutions
Coordination of public-private research-action
Etc.
Working together with businesses
Training for partners in economics
Mobilisation of experimental works
Living labs
Opportunities research
Evaluation of silver economy solutions
Etc.
Structure of the silver economy

Development of training programmes
Analysis of public and local authority needs.
Design and deployment of training and interventions.
Mobilize training as a vector of prevention

Training to identify the frailties of the elderly at home
Developing actions and tools for prevention
Leading innovative actions.
Experimentation and evaluation.
Contributing to the evolution of global prevention and loss of autonomy.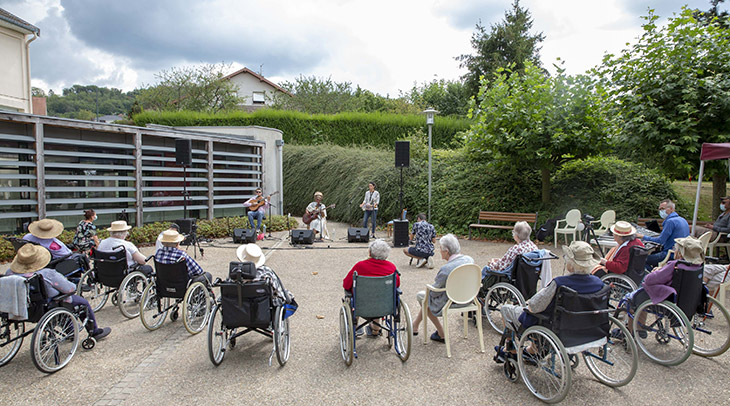 ---
OMEGAH
Well being in accomodation for the elderly
Nursing home prevention programm
Our training and prevention programmes
Training
National programme for training personnel for the EBAD (Evaluation of Homecare Services)
Coordination of the APSE (Animation Professionalisation Structure d'Évaluation / Training evaluation structure network
SENSOLINK
Training engineering
Thematic interventions for healthcare, welfare, and social care professionals
Thematic interventions for the retired, families, and caregivers
National training system to prevent risks at home
National system to assess and identify fragility
Etc.
Prevention
Sleep workshops and conferences
Welfare guarantees
Self-confidence workshops and discussions
Suicide prevention for the elderly
Conferences on depression
Conferences on hearing
Adapted accommodation discussions
Digital mediation workshops
Conference and workshops on emotional and sexual life
« Seniors and addictions » meeting cycle
Etc.

Supporting local authorities or various entities.
Coordinating proximity partners.
Valuing local projects.

JNA (Journée Nationale des Aidants / National day for informal carers) 2021 in Bourgogne-Franche-Comté

Local conferences with the elderly
---
Exhibition Caring and Loving
Raise general public and professionals awareness of the caregivers' daily life
Financed by the regional health agency of Bourgogne-Franche-Comté within the framework of the PMND, by the social action of d'AG2R La Mondiale BFC and by the GIE IMPA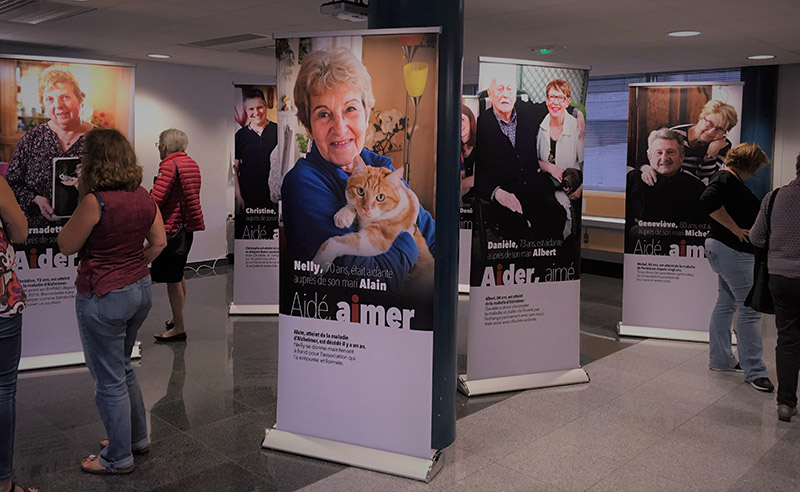 ---
EHPAD'EZ VOUS Exhibition
Disseminate art and live shows to audiences who are often far from it. Make nursing homes professionals aware of the value of cultural action in these accommodations.
Financed by Bourgogne-Franche-Comté Regional agency and AG2R LA MONDIALE Bourgogne-Franche-Comté, in partnership with Côté Cour for artistic direction and inspired by the Fondation I2ML initiative.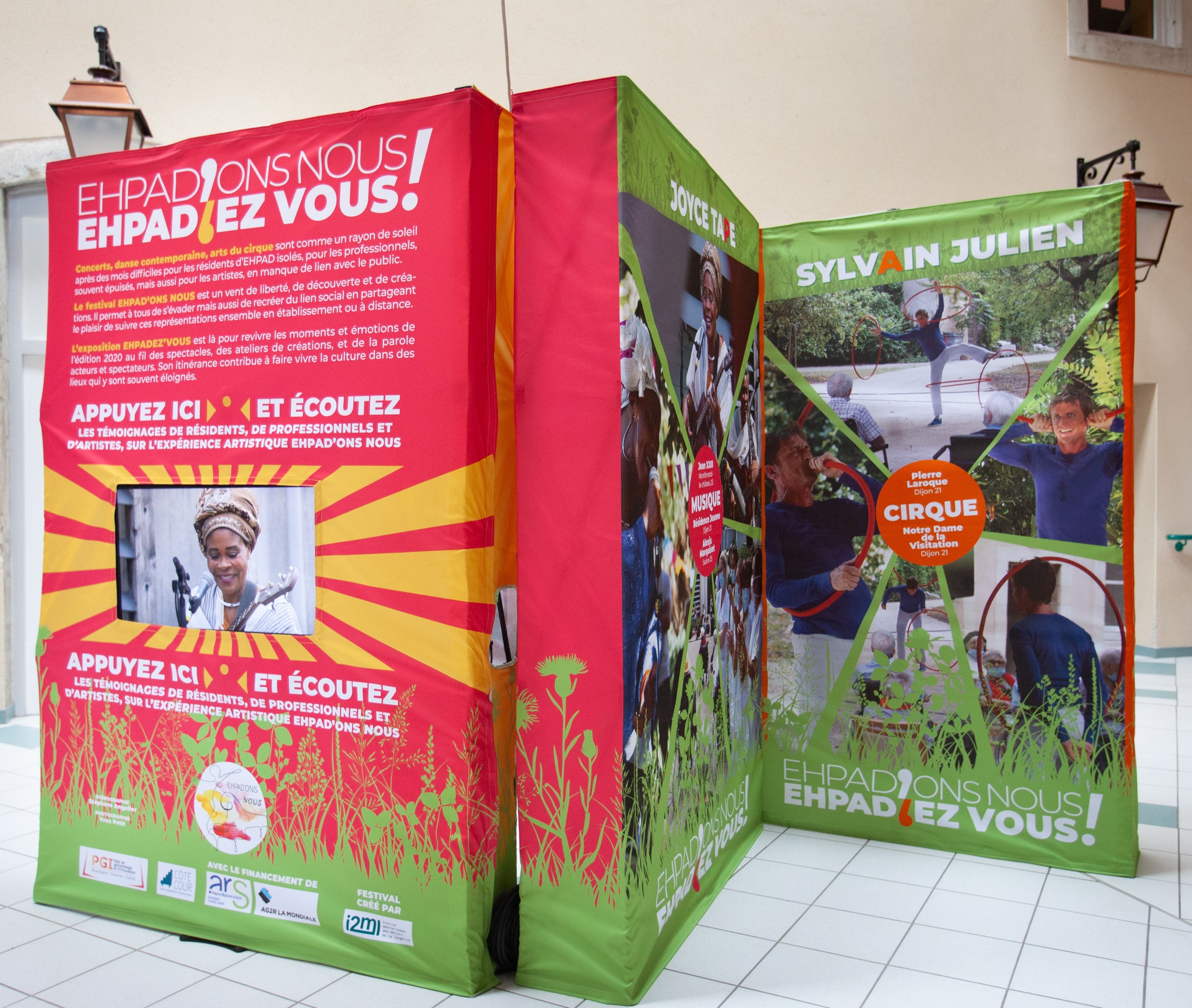 Our actions in the region
They financed the PGI 2020 projects